My Mother Daughter Photos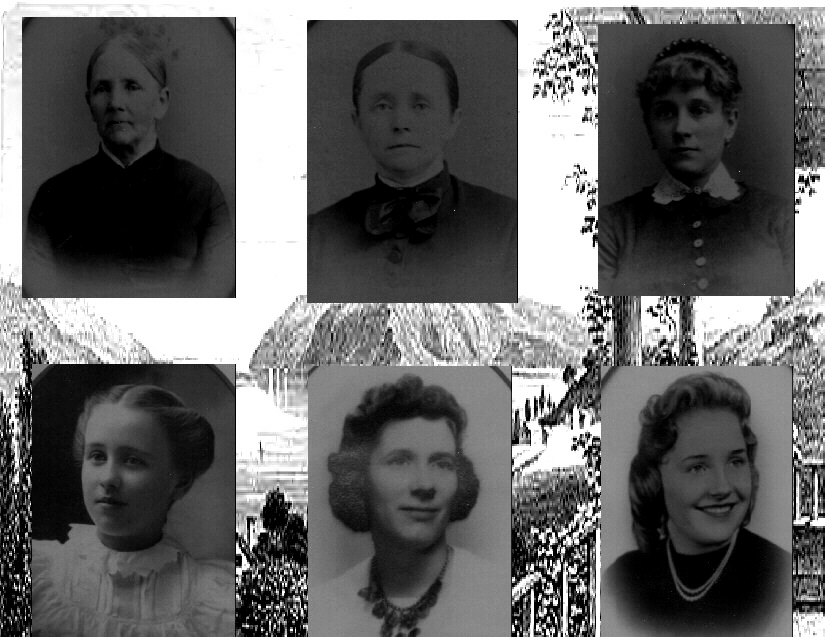 L-R Upper to Lower
1. Elizabeth Pierce b. 1822 d. 8/25/1908 married Hiram Halstead (1816- 08/10/1880) lived in Fishkill NY and Newburgh NY.
2. Catherine Halstead b. 9/26/1840 d.3/16/1902 married Joseph Platt Bull (10/28/1884-4/26/1884), lived in Fishkill NY and Newburgh NY
3. Sarah E. Bull b 1/13/1864 d.4/12/1933 married Nathan D. Brewer (9/2/1850-10/19/1945)lived in Newburgh NY
4. Edna Robinsonn Brewer b. 11/5/1885 d.7/15/1950 married George W. Corwin (6/12/1882-3/22/1956)
5. Edna Marjorie Corwin b.9/5/1907 d.9/7/1998 married Emmett P. Merritt (07/15/1902-9/30/1986) lived in Newburgh NY and Cornwall NY
6. Pamela Merritt (my mother)
These are the photos that my Grandmother Marjorie Corwin Merritt had on display in her home and now my mother has them displayed in hers with mine included. My cousins, that is, all the other female descedents of Sarah E. Bull Brewer also have these photos and I know we all take great joy in remembering these our "fore-mothers".
So often genealogists work only on the male line but so much of who we are comes down to us not with the name but with the mothering.
In my family, genealogy has been enjoyed by both the men and the women. My Grandmother Marnie often assisted my Grandfather and accompanied him on his excursions much in the same way as my mother helps me. Mom and I have great fun hanging out together while we 'dig up' our roots. I thank God everyday for having given me such a wonderful family but in particular such a wonderful Mom.
Whenever I'm feeling down or blue my mother always reminds me that I come from a long line of strong women and if ever I forget it I only have to look at these photos to remind me. Each of the women in these photos had their own history of hardship and joy. Many suffered the loss of their children, their homes, or their husbands, but all perservered and found faith in the Love of God. I hope that everyone who sees this page is reminded of their own mother and her mother before her......
God Bless